The Annual Convention 2023 of CSI Parish Sharjah Commences with a call to find Jesus the Provider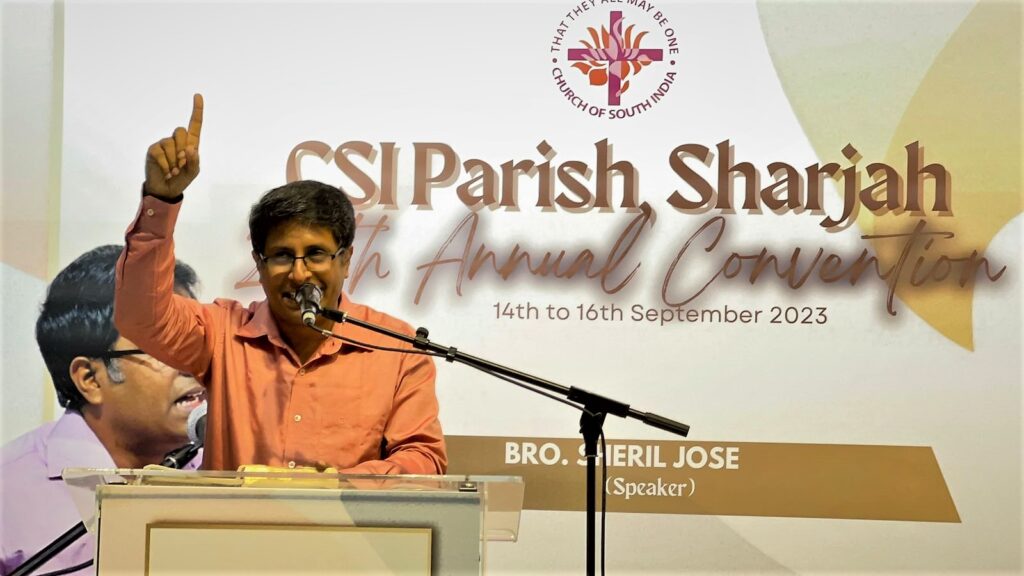 Brother Sheril Jose, the guest speaker of the Annual Convention 2023 of CSI Parish, Sharjah, in his challenging sermon on the first day of the convention persuaded the audience to seek and find Jesus Christ who is the provider and sustainer as Andrew and John did as we see in St John 1: 35- 42.
Four major insights were brought out by Brother Sheril from this passage. 1. Andrew and John found Jesus Christ. 2. Jesus finds Andrew and John. 3. They find each other. 4. Andrew and John find the space where Jesus resides. They are finding out the Jesus who was seen in the prophecies. Jesus, the one who walked in the history of the world is the provider and sustainer. When Andrew and John tried to find out the place where Jesus resides, they were invited to join him in the supper and stay with him. When we seek the presence of Jesus, we will be blessed with the chance of being with him. We are expected to use this chance at the earliest possible, because the end time is coming soon.
Rev. Sunil Raj Philip, the Vicar of the CSI Parish, Sharjah, did the opening prayer for the first day of the convention. Mr. Thomas P. George, the Vice- President of the Parish, welcomed the guest speaker and the gathering. Rev. Raju Jacob, the Vicar of CSI parish in Dubai, made the offertory prayer and pronounced the benediction. Mr. Ivin Koshy read the psalm for the day and Mr. John Varkey led the intercessory prayers. Mr. Kurian Thomas, the President of Sharjah YMCA offered the closing prayer.
Brother Sheril will be preaching on the second and final day of the convention, which will begin at 7.45 pm with the praise and worship session.
The Annual Convention 2023 Begins